5 tips to choose the right website development company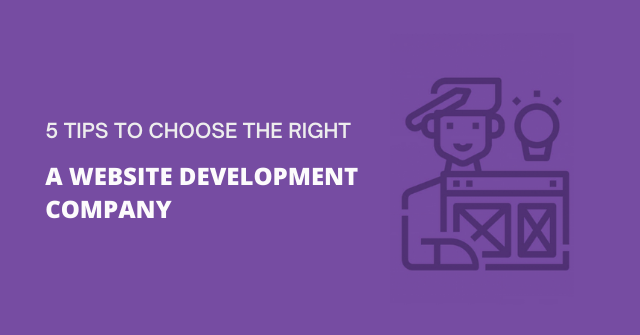 Are you ready for your business to have a professional website? As people are starting to turn to the internet for products and services, it is becoming vital to have a well-built website for your business. It's just three days earlier on November 11 that Daraz (the eCommerce giant of Nepal) saw 7 lakh orders over 24 hours.
How do you choose the right company from such wide number of options available out there ?

Not every company is the same and will be fit for you. Your requirements determine the type of company you are needing to go for. Also, you need to think for the longer term since it is not a one time deal. Think in detail about following things before taking the decision:
1. Experience of the company.
When choosing website design and development company, make sure that the company has an established track record and has a legitimate experience.
It is nothing difficult for an individual to "start" a website design company by simply putting up a simple website and announcing that they are open for business. If you're wishing to hire professionals, however, you should be sure to look at their qualifications.
Ask for work samples and look for authentic testimonials. Read reviews on online review sites and directories.
Make sure that the website company has worked with various industries and knows the best practices for creating an elegant, responsive, and user friendly website that will attract your customers.
2. Creativity.
Although it is their job to build the website for you, the best company will take the time to listen to your ideas. After all, it is you who knows the most about your business and industry.
Taking your ideas, the team must come up with their creative way to present them in an elegant way. While the website should look appealing, also make sure that it actually converts your visitors into customers.
3. Manner.
Good manners are a way to show others that you care about them. Manners also make it easier for you to feel comfortable with them. It won't matter of their creativity or 20 years of experience if they have ill manner.
The web design company should listen to your opinion carefully in a polite manner. Never go with them if they act bossy or treat you inferior.
4. Support.
Technical product such as websites and softwares may be outdated at any time and produce errors. Make sure that you know what kind of support the company will offer you in the future. Most companies will offer maintenance services after the website has gone live.
You might need to find a company which provides support at a certain Annual Maintenance Charge (AMC). You may also need support as you work on your CMS and have questions as you develop and add to your site.
5. Finally cost.
After making sure that you have the above points fulfilled, now ask for the quotation with them and compare it with some couples of web design companies out there. The cheapest one cannot be always bad, and the expensive one cannot be always best.
If you are still feeling confused on choosing the right website development company in Nepal, please feel free to contact us.